For thousands of years, the bed of nails has been used in India for relaxation exercises, meditation and yoga. The Acupressure Mat is designed to work in a similar way, activating the body's own production of "natural painkillers" known as endorphins. It also encourages the release of oxytocin, sometimes called "the love hormone" or "the peace and calm hormone". Endorphins and oxytocin raise your pain threshold, and create a feeling of well-being and relaxation, so you wind down and find it easier to fall asleep.
1. Use the Acupressure Mat whenever your muscles ache or when your joints feel stiff. When your body is relaxed, it's easier for you to heal and recover.
2. If you always tense a muscle or area by heavy lifting, computer work, repetitive movements or just during periods of stress and anxiety, the muscles will never get a chance to rest and relax, or the intervals of rest are too few and too far between. This may lead to chronic aches and pain.
3. Relaxation: You can also use the Acupressure mat for pure relaxation. Use it when you find it difficult to wind down, or when you are feeling stressed. Try using the Acupressure mat before going to bed to help you fall asleep more easily.
4. Regular use of the Acupressure mat will help you relax and create a quicker self-healing process for your body. Directions Lie on the mat for 20-40 minutes as needed, preferably at least a couple of times a week. You can use the Acupressure mat every day. It should feel "nicely painful" to achieve its effect. We all have different pain thresholds, so most of us will need to adjust the effect by putting a towel or thin cloth on the mat to soften the pressure of the "nails". Try it out until you find the right level of sensation.
5. The "nails" of the mat have a rounded tip and cannot harm you.
6. Whiplash: People with whiplash injuries become dizzy and sometimes have pains in their neck at the beginning of the treatment. This is because the neck is important for balance. When a person has chronic tension in the neck and shoulders, the muscles "force" the neck into a new position. When the muscles relax, a new balance is created and this may cause dizziness. This is harmless and will gradually disappear as the muscles around the neck become less tense. Lie on the mat for 5-10 minutes every other day and gradually increase use of the mat as the dizzine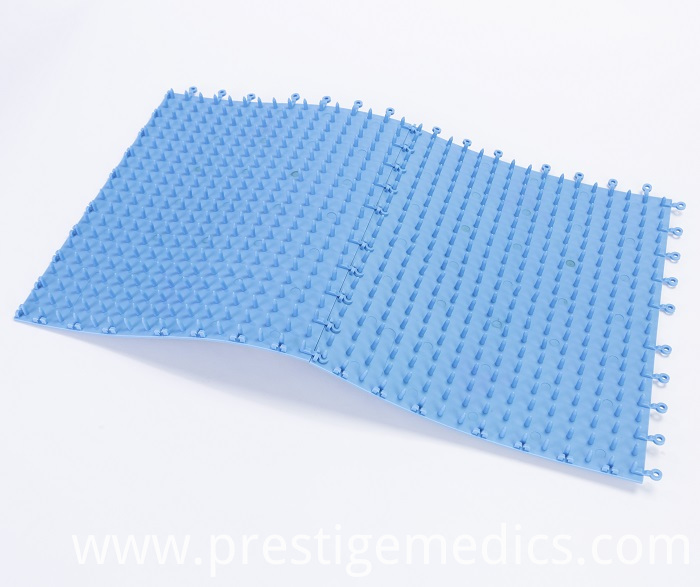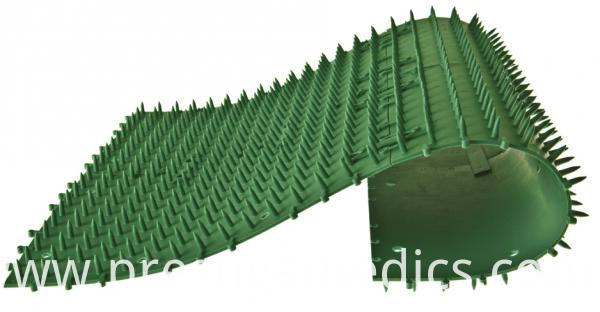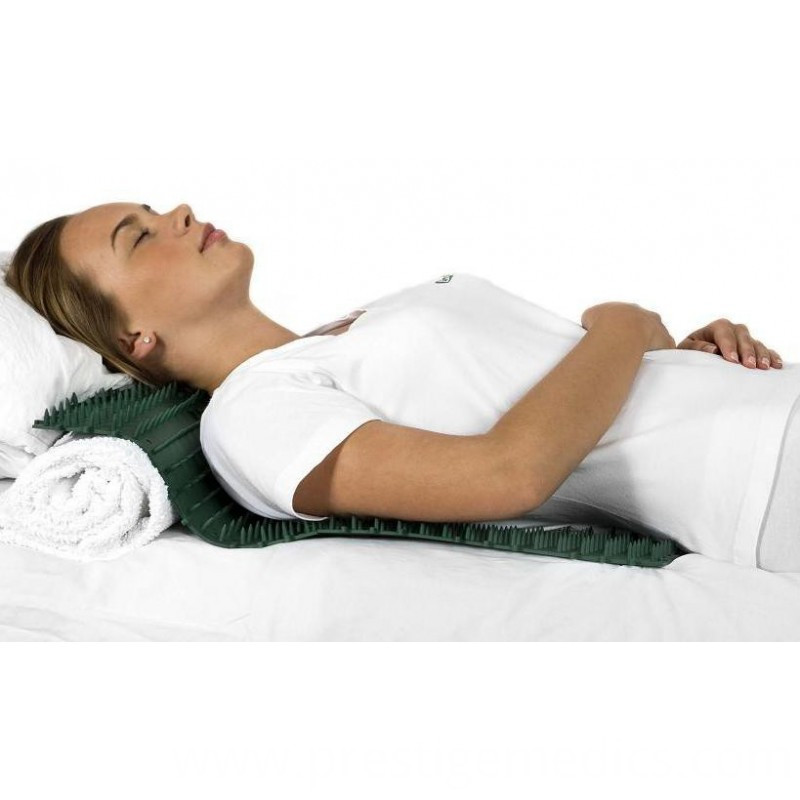 The Swedish Spike Acupressure Mat benefits and feature:
A proven solution to back pain
Relieves pain and tension
Increases blood circulation,activates the "energy"flow
Alleviates stress,muscle soreness and sleep problems
Easy to use design for home treatment
Hygienic design can be washed or disinfected
Made from recyclable material TPE material
Size: 40 x 60 cm.
Nail height: 1.5cm
Color: blue or customized color
unique design connect join, easy to connect with each other
How to use the Swedish spike acupressure mat
It is a simple acupuncture tool, but effective. The Swedish Spike acupressure mat can be used by people of all ages and weight. The products can be used with a thin t-shirt / a thin fabric in between the mat and your skin, or directly against bare skin. Try for yourself and find what suits best for you, this could also vary from time to time. There is no self-purpose to use The Spike Mat directly against bare skin, but if you do not think that sufficient effect is achieved with clothing, it can safely be used against bare skin. The Swedish Spike acupressure mat is made of a medical-technical plastic that does not cause allergies. To achieve the best effect we recommend using the Swedish Spike acupressure mat for a minimum of 20 minutes, every day, or whenever you might need it. There is no harm in using the Spike acupressure mat for longer than 20 minutes or to fall asleep on it.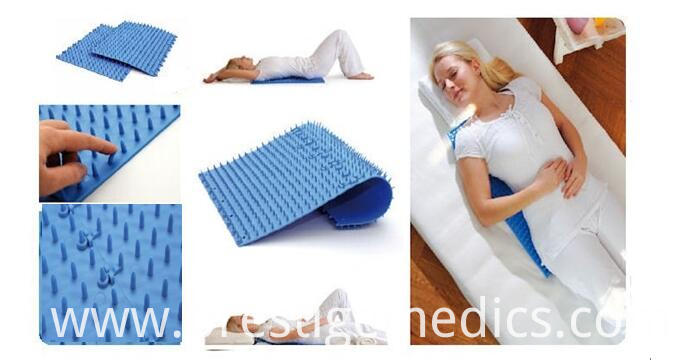 Storage
Always store spike mat products with the spikes turned downwards or against a wall. Keep out of reach of small children.

Cleaning
The Swedish Spike Mat can easily be cleaned, just rinse in the shower with warm or hot water. Detergent, soap or alcohol can be used
Looking for ideal TPE Bed of Nail Manufacturer & supplier ? We have a wide selection at great prices to help you get creative. All the Original Bed of Nail are quality guaranteed. We are China Origin Factory of Yoga Bed of Nail. If you have any question, please feel free to contact us.